Special exhibit "The E-Road" with outdoor driving course
Electric mobility premiere at the eltefa 2019
For the first time ever, the eltefa 2019 will be hosting a special exhibit "The E-Road". Something KEBA cannot miss out on! Visit us and learn all about our wall boxes that are MID-certified and compliant with the German calibration law, thus making it possible to charge and bill in public areas. In the outdoor driving course you can not only test your driving skills, but also our charging stations.
---
Exhibition debuts in a year full of highlights
The year 2019 seems to be a year full of highlights. Not only is the eltefa opening its doors for the 20th time, but there is also a special show titled "The E-Road" being held for the first time in the wake of the enormous boom in electric mobility - which is reason enough for KEBA to make its way to Stuttgart, for Germany's largest state trade fair for the electrical industry.
By the way: this year we are also celebrating our 10th anniversary. When KEBA presented the first prototype of a charging station in 2009, electric mobility was just a far-off vision. Today, with more than 100,000 wall boxes sold, we are one of the top 3 manufacturers of intelligent charging infrastructure worldwide.
Visit us at our stand to take a look at our charging stations and to talk to our electric mobility experts:
When? 20th to 23rd March 2019, daily from 9am to 5pm
Where? Messe Stuttgart, Hall 10, Stand 10F71
Our electric mobility experts are looking forward to your visit at the KEBA stand 10F71.
Related articles
28.5.2020
"Urcharge" project examines crucial questions about the viability of e-mobility for everyday use
One of the largest and longest electric mobility field tests in Austrian history starts tomorrow. For the project "Urcharge" (Urban Charging) 51 households in a Linz residential complex will be exchanging their fuel car for an electric car including their own KEBA charging station, which is integrated into the Linz AG charging solution "WallBOX CitySolution". It will provide answers to fundamental questions about what infrastructure and charging behaviour is needed in order to make the day-to-day use of e-mobility a decisive environmental protection factor in urban areas, even for densely populated areas. The start of the project had been postponed due to Corona - now the project gets underway.
Read more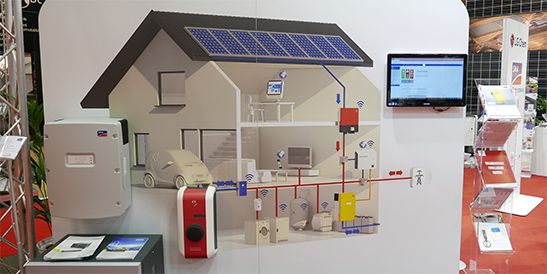 4.3.2019
That was the Energiesparmesse 2019
The Austrian Energy Saving Fair is the annual event highlight on the topic of "the perfect and smart home". This year the electric mobility expert and market leader KEBA was once again well represented with numerous wall boxes, an expert lecture and participation in a panel discussion on the ORF stage.
Read more