Innovative design meets sophisticated technology
KEBA named exclusive supplier for Honda Power Charger - the original charging station for the all-electric Honda e.
15.10.2020
News, Business, Corporate
In the run up to releasing the first all-electric Honda e, KEBA was named the exclusive supplier for Honda Power Charger wall boxes. The charging station was jointly developed in record time and first presented at the last IAA in Frankfurt.
---
When looking for a partner to develop the charging station for their first all-electric vehicle, the Honda e, the Honda Access Europe NV opted for KEBA, the technology expert with development and production expertise in Austria.
According to Bruno Lambrechts, Senior Manager Sales Division at Honda: "The selection process was very thorough and we are happy to be working with KEBA, an expert in intelligent charging stations. An innovative team with extensive experience at KEBA allows us to jointly implement projects in a quick and effective way.
Intelligent and convenient charging
After just a few months of collaboration we developed the Honda Power Charger, an intelligent link between the electric car and the power grid. The charging station is simple to use and can be easily integrated into existing smart home technologies. It comes in three different models depending on requirements and is designed to perfectly match the vehicle both visually and functionally with numerous well thought out features that make life charring easy and save.
"Just like Honda, we always aim to provide the highest level of technology and are delighted that Honda has chosen to place its trust in us. We offer our partners premium innovative solutions and have proven our ability to master complex requirements in the dynamic world of mobility", says Gerhard Luftensteiner, CEO of KEBA AG
You can read the full press release here
Press release
Whether for private or commercial use: the Honda Power Charger offers safety, efficiency and user-friendliness
Related articles
6.4.2020
KEBA Anniversary Wall Box: Special offer extended!
We are delighted with the great amount of positive feedback we have received from our customers over the past six months regarding the KEBA Anniversary Wall Box. We have therefore extended our offer for you until 31 July 2020. Which brings things full circle: because now you can benefit from the unique 10th birthday anniversary price for a total of 10 months. And of course each anniversary wall box will continue to be offered with an additional 10-month warranty.
Even in difficult times like these we are able to deliver 100%, and there is - among others - a reason for this: the dedicated commitment of our production staff, who deserve our special thanks.
Take advantage now
22.3.2019
Trade Fair "ZANDER TRIFFT..." in the VELTINS Arena
In a location where normally top-class football teams or legendary music bands inspire thousands of people, the Zander Group invites you to a trade fair event of a special kind. KEBA will be presenting new products from the world of electric mobility from 22 to 23 March in one of the world's largest football stadiums - the VELTINS Arena in Gelsenkirchen.
Read more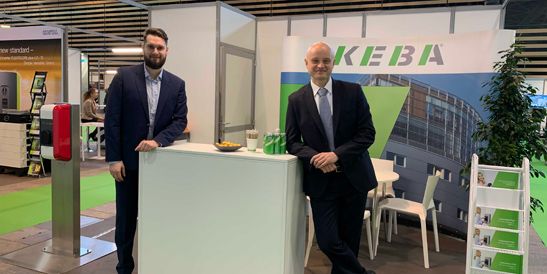 14.2.2019
KEBA at BePOSITIVE 2019
France calling ... again! This time our team is at BePOSITIVE - the national exhibition for the energy transition. And our wall box in the French national colors is on display again. Why not visit us until tomorrow, February 15th, at the KEBA stand 6.1P47?