Our anniversary wall box for 10 years of electric mobility at KEBA
KEBA Electric Mobility turns 10 - that's a reason to celebrate. Our success story would not have been possible without our customers, which is why we would like take this opportunity to thank you. Celebrate with us and buy one of 10,000 anniversary wall boxes at a very special price. You can also look forward to 10 months of additional warranty.
---
Related articles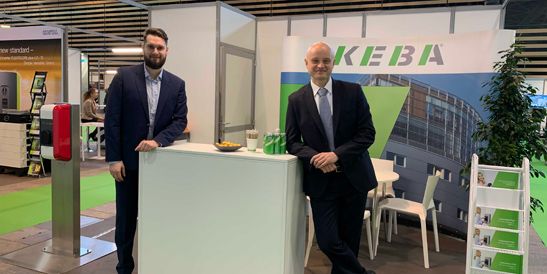 14.2.2019
KEBA at BePOSITIVE 2019
France calling ... again! This time our team is at BePOSITIVE - the national exhibition for the energy transition. And our wall box in the French national colors is on display again. Why not visit us until tomorrow, February 15th, at the KEBA stand 6.1P47?
5.4.2018
Europe's first electric fire truck is charged using KeContact P30
Yesterday Linz AG presented the first fully-equipped fire truck with electric motor in Europe - charged safely and securely with KEBA's KeContact P30. (Image source: FOTOKERSCHI.AT/Werner Kerschbaum)
View image gallery
26.2.2019
Expert lecture at the Energiesparmesse 2019
5 days. 800 exhibitors. 65,000 m2 exhibition center. The Energy Saving Fair in Wels is Austria's leading trade fair for construction, bathroom and sanitation as well as for heating and energy. It attracts 95,000 visitors every year. Smack-dab in the middle of it all: our KEBA electric mobility expert Gerhard Wimmer. He has been invited to give a talk on "The Right Charging Station for My Electric Car".
Read more