11 - 13 February 2020, KEBA exhibition stand GA-14
E-world 2020: KEBA at Europe's leading energy trade fair
Highly intelligent wall boxes, German Mess- und Eichrecht compliance, MID certification and a Europe-wide partner network. These are the exhibition highlights at the KEBA stand GA-14 at the "E-world energy & water". The leading trade fair of the energy industry will attract more than 25,000 visitors to the Essen (DE) fairgrounds from 11 to 13 February 2020. The topic of electric and smart mobility is increasingly becoming the focus of interest, making it perfect for KEBA to be present at the show. Find out more in advance here - we look forward to your visit.
---
More than just charging: Intelligent wall boxes
A KEBA wall box is not only a reliable and safe electric charging station for electric cars. Thanks to a variety of interfaces and numerous features, it can also control and communicate. It can be integrated into all common backend systems, making it easy to bill the actual amount of energy charged. Intelligently controlled charging through load management is also simply implemented.
German Mess- und Eichrecht is so easy with KEBA
With our wall box innovation - the KEBA KeContact P30 ME - we meet all the requirements of the German Mess- und Eichrecht for consumption-based billing of charged energy. The wall box is characterized by a high degree of user comfort, transparency and investment security. A real highlight: It is available both as a cable version with a fixed charging cable and as a socket version with a charging socket.
Our wall box as an MID-certified meter
Throughout Europe, the regulations of the "Measuring Instruments Directive" - "MID" for short - must be complied with for the consumption-based billing of charging current. These concern the measuring instrument, which must not only be accurate but also tamper-proof. With KEBA you do not need any additional components, because our entire wall box is an MID-certified meter.
Europe-wide partner network
We at KEBA solve the challenge of being present throughout Europe with a strong partner network. Their commitment and expertise ensures optimal service and support in the respective national language. Our charging station operators offer you an all-round care-free solution.
Our wall boxes can be purchased from specialist and electrical wholesalers. And if you are looking for a certified electrical installer who is familiar with the KEBA wall boxes and can also install them professionally, then you are sure to find a certified expert nearby in our steadily growing partner network.
We kindly invite you to visit us at the exhibition
Would you like to know more? Then why not visit us. Our electric mobility experts look forward to talking to you personally and sharing with you more information about the latest market and product developments.

When? Tuesday, 11.2.2020 and Wednesday, 12.2.2020 from 9:00 am to 6:00 pm and Thursday, 13.2.2020 from 9:00 am to 5:00 pm

Where? Galeria | Stand GA-14, Messe Essen (DE)
Visit KEBA at the E-world 2020 and experience for yourself our intelligent KeContact P30 - one of the three best-selling wall boxes in the world.
Related articles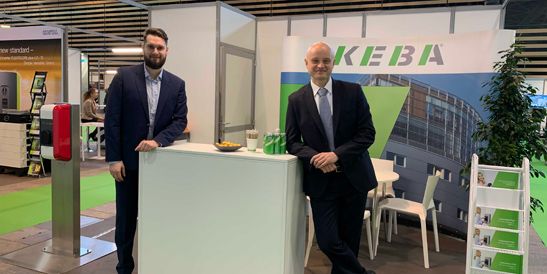 14.2.2019
KEBA at BePOSITIVE 2019
France calling ... again! This time our team is at BePOSITIVE - the national exhibition for the energy transition. And our wall box in the French national colors is on display again. Why not visit us until tomorrow, February 15th, at the KEBA stand 6.1P47?
26.2.2019
Expert lecture at the Energiesparmesse 2019
5 days. 800 exhibitors. 65,000 m2 exhibition center. The Energy Saving Fair in Wels is Austria's leading trade fair for construction, bathroom and sanitation as well as for heating and energy. It attracts 95,000 visitors every year. Smack-dab in the middle of it all: our KEBA electric mobility expert Gerhard Wimmer. He has been invited to give a talk on "The Right Charging Station for My Electric Car".
Read more
20.10.2016
KEBA receives E.V. Ready mark as first company worldwide
KEBA is the first manufacturer of charging stations worldwide that has received the E.V. Ready 1.4B certification of the French approval authority Asefa.
Read more