The right charging station for my electric car
Expert lecture at the Energiesparmesse 2019
5 days. 800 exhibitors. 65,000 m2 exhibition center. The Energy Saving Fair in Wels is Austria's leading trade fair for construction, bathroom and sanitation as well as for heating and energy. It attracts 95,000 visitors every year. Smack-dab in the middle of it all: our KEBA electric mobility expert Gerhard Wimmer. He has been invited to give a talk on "The Right Charging Station for My Electric Car".
---
Ready for the future with the market leader KEBA
The electric revolution has long since become the leading theme of mobility. Across Europe, more and more individuals are recognizing the benefits of electric cars. They would like to see the integration of intelligent charging stations into smart homes.
So it is not surprising that the topic of electric mobility is a must in the general program of the energy saving fair in Wels. Gerhard Wimmer from the Austrian market leader KEBA has been invited to the stage to give a lecture. He will be providing the visitors with insights into the market and be conveying his knowledge on intelligent charging.
When? Saturday, March 2, 2019, 3:00 pm
Where? Event stage of the OÖ Energiesparverband, Hall 20, 2nd floor
KEBA expert Gerhard Wimmer will also be participating in the panel discussion on "E-Auto & Smart Home", which will be held by an ORF presenter.
When? Sunday, March 3, 2019, 3:15 pm
Where? ORF Radio OÖ Stage, Hall 1
Come and experience KEBA charging stations live
Numerous KEBA KeContact P30 wall boxes will be exhibited at our partners' stands. In addition, Wels Strom will provide 20 of our charging stations for visitors to use free-of-charge to charge their electric car during their trade show stay.
Let's network
Our KEBA electric mobility expert, Gerhard Wimmer, is already looking forward to your participation in his talk and to some personal discussions. Feel free to contact him in advance via LinkedIn or Xing.
Expert lecture: The right charging station for my electric car
More about the Energy Saving Fair 2019
The Energiesparmesse in Wels opens its doors tomorrow, on 27 February. The first two days are only for trade visitors. Afterwards - from the 1st to the 3rd of March - the entire exhibition center is also open to the public. You require further information about the fair? Follow the link to the official website.
Related articles
27.11.2019
A vision becomes reality: 10 years of electric mobility at KEBA.
Browse through the milestones of our pioneering history on our anniversary page. Together we also take a look into the future of mobility: Our KEBA expert Andreas Plotz gives exclusive insights into the world of tomorrow... and the day after tomorrow in an exciting video. And if you want to celebrate with us, you can purchase one of 10,000 anniversary wall boxes at a special price.
Read more
22.5.2019
Concentrated electromobility knowledge from the wall box pioneer
With 10 years of industry experience and 150,000 wall boxes sold, KEBA is a world market leader in electromobility. And our experts are frequently invited to speak at events all over the world. Come see Gerhard Wimmer, KEBA Sales Director, who will give unique insights into the dynamic electromobility market at "vie-mobility 2019" and the "Photovoltaik für Gebäude" (Photovoltaics for Buildings) conference.
Read more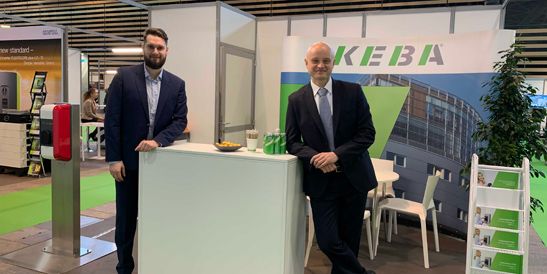 14.2.2019
KEBA at BePOSITIVE 2019
France calling ... again! This time our team is at BePOSITIVE - the national exhibition for the energy transition. And our wall box in the French national colors is on display again. Why not visit us until tomorrow, February 15th, at the KEBA stand 6.1P47?